What is an LED Liquor Shelf?
This is a liquor shelf for bars that has LED lights integrated into the design. This gives it a sleek, modern look. A modern and sophisticated way to store your favorite drinks. An LED liquor shelf is an interactive bar component that displays all of your bottles of liquor on shelves similar to an open bookshelf. They are becoming more popular in the nightlife industry because they are practical and customizable to fit any bar's style.
There are different ways to use this type of liquor shelf in your bar or lounge, depending on what you want to display for patrons. Some popular uses include displaying some of your top-selling bottles or cocktails, creating a photo wall for guests, and using them as a spotlight on the centerpiece of your establishment!
What are the Advantages of lighted bar shelf?
In the last few years, the LED lighted bar shelf has become a very popular product, it can be seen in different colors and designs. They are compact and lightweight which makes them easy to fit in any bar or kitchen.
In comparison to other types of bars, liquor display shelves don't consume much power and can last up to 50,000 hours. This makes them great for long-term usage and also saves you from paying for electricity bills on a monthly basis.
There are key advantages that come with using an LED liquor shelf:
These products are the newest trend in the market. M&E shelves provide an aesthetic look to your bar without compromising on durability or functionality. They're also energy-efficient, saving you money in the long run. Perfect for any occasion, including family gatherings, housewarming parties, holiday celebrations and more.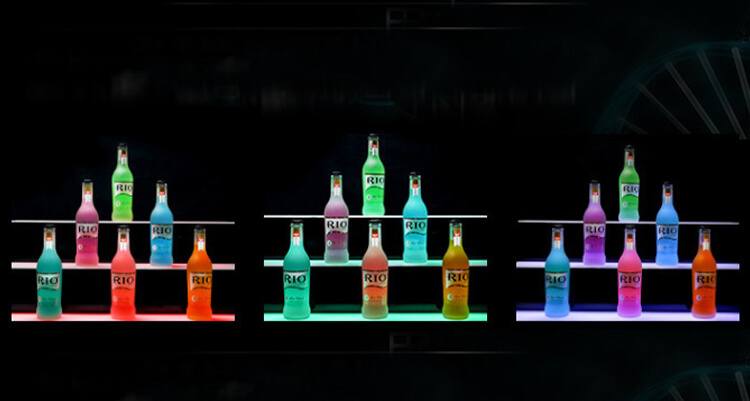 How to Create the Perfect LED Liquor Shelf
If you're looking for a stylish and eye-catching liquor shelf, then this liquor bottle shelf is perfect for you. It's made of acrylic to make sure that it's durable and safe to use in bars and restaurants.
This shelf is perfect for any bar or restaurant. It has a sleek design with different options to choose from such as the colors of the LED strip, making it really easy to customize your design.
In order to create the perfect lighted bar shelf, you need to have a few things in mind from the beginning. You should plan out your design so that it can be seen and enjoyed by many people around it. This is because these shelves will draw much attention and may start conversations with friends and family members that visit your area.
You should also consider how tall you want your shelf to be as well as the size of each shelf unit. This is because tall shelves may not fit in narrow spaces, such as near doors or windows. While shorter ones may need more space above them.